Each year when fall comes around, Fair Grove hosts the annual Fall Festival where various clubs, programs, and vendors can participate in the parade, and set up a booth. 
For the festival, there is an annual parade that takes place on Saturday, opening morning, at 10 a.m.. Multiple different clubs, organizations, and programs have the opportunity to set up and ride in a float through the parade up Main Street.
A few programs that participated in the parade during the 2023 festival include the Fair Grove High School Band, the Volleyball Team, the Football team, the Fair Grove Cheerleaders, and the Homecoming Princesses and Queen. 
The Band participated in their annual tradition of marching along the parade route playing various popular songs, drum cadences, the School Fight Song, and then pausing at The Mill in order to play the National Anthem. 
Band Director Natalie Palomo describes her favorite memory from a couple years ago of participating in the parade, "It was pouring down rain, but the band still stopped to play the National Anthem outside the mill. It was raining like crazy outside and the kids were real troopers about it." 
The Band also hosted a parking lot, where people were able to park at the Bus Barn and hop in a shuttle to ride down to the festival.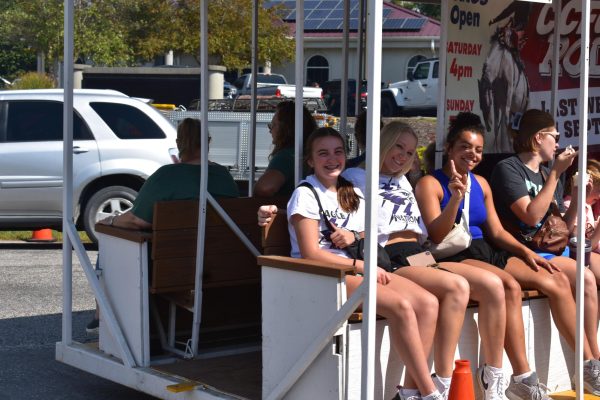 Along with participating in the parade, programs and individual people also have the opportunity to host a booth where they are able to sell items, food, or various services. 
Holley Johnson, Project Grad President and mother to children who attend Fair Grove, runs a personal booth with her cousin that involves putting fairy hair (hair tinsel) in people's hair who choose to come to her stand. With Project Grad, she had two parking lots and two separate booths that had a duck pond and two other games, as well as selling drinks, snacks, and candy. 
Organizations and clubs at the school also are able to host parking lots, where people can pay a price to park in various parking lots around the town near the Festival. This is a fundraiser opportunity for the clubs to participate in. 
Not only is the Fall Festival an opportunity for business advertisement and earning profits for booth holders, it is also a chance for traditions to be set and for memories to be made. 
Johnson, who has lived in Fair Grove for 36 years, states her favorite traditions, "Watching the parade, drinking Grandma Sue's lemonade, eating curly fries, eating corn on the cob, catching up with old friends, what isn't to love about the last full weekend in September around the town of Fair Grove?"