Members of the Fair Grove High School Marketing and Graphic Design classes have been preparing for their future workforce with the School Store.
The Fair Grove School Store, Flight Gear, has taken off over the past few years. Even though the store began during the midst of Covid-19, they had a very successful first year. Cayse Overstreet, The High School Marketing and FBLA advisor said, "We focused on building our business plan, store remodel, and online website. The next year we added new in-store racks and created various teams/departments."
This year Flight Gear has added two industrial-sized printers for clothing and other banners. After the addition of these printers, a new production department was added to the overall team. Other departments include merchandise, marketing, operations, and assistant management. 
Each department takes on their own projects. Overstreet stated, "Each team completes real-world tasks that those departments would complete in a real business. Tasks include designing, creating, promoting, and selling merchandise."
Allison Findley (12), Manager of Marketing said, "As a part of the marketing team, I have learned specifically what kind of marketing strategies reach the most people and what attracts our target market. I have learned leadership and personal selling skills."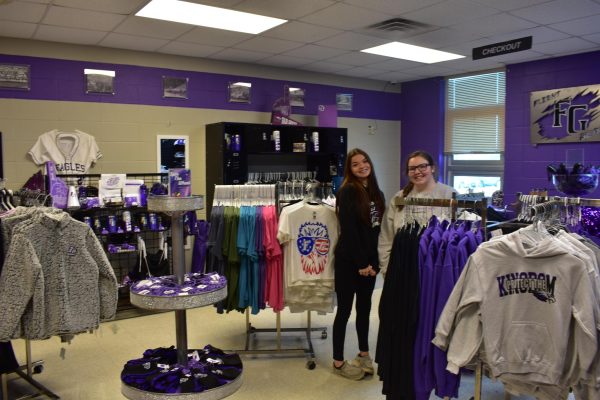 Students do more than just work, they gain real work experience. Findley said, "Students who work in the School Store are gaining real world experience as they work in teams and overcome challenges that the school store faces when it comes to selling, marketing, production, etc."
On top of gaining work experience, students can also gain social skills. Saylor Cowles (12) said, "…but the main ones that I have noticed is public speaking (Before, you could never get me to speak in front of people or anything. But I have presented at a Chamber of Commerce meeting and at one of the School Board meetings)." 
By working at Flight Gear students may have a better understanding of how the workforce truly functions. Some may even gain real jobs, Saylor Cowles (12) said, "Yes, I do think it helped me receive a personal job which is also a retail store. Since I had the retail experience of working at the school store, it showed that I had knowledge and the ability to work."
To become a part of the staff at Flight Gear, there are some qualifications. Students must have taken a marketing or graphic design course to have the opportunity of joining Mrs. Overstreet's school-based enterprise class. After joining the class, students will rotate shifts through advisories and sporting events. 
Flight Gear has a lot of merchandise ranging from socks to warm winter clothes. Flight Gear is encouraging students to show school spirit and collect more merchandise.