Fair Grove Band Director Natalie Palomo has spent her past seven years at the school working to help students grow their abilities in order to be successful.
As a teacher, Palomo has the goal of providing the highest quality of musical education that she can. One way she does this is by creating an environment where students will be challenged and pushed to the best of their abilities. "I want them to find strength and grit through performance of music, and to learn that they're capable of more than they realize," stated Palomo.
Fair Grove Choir Director Audra Harmon said, "[Palomo] wants the band to be successful and works very hard to make that happen." Palomo does this by trying new techniques throughout the years to help her students improve. Last year, she changed the method books used by the middle school students to help them enrich their abilities. 
Palomo is in charge of managing the Middle and High School Bands. According to Stephanie Dunham (12), one member of the High School Band, Palomo keeps things running as well as puts together the High School marching show. She also chooses which competitions the High School Band participates in during marching season.
Dunham expressed how Palomo is very knowledgeable when it comes to helping students improve. "I've seen first hand the growth that my peers have had throughout high school in their musical ability and that is a result of Mrs. Palomo's outstanding leadership and knowledge in her career field," said Dunham.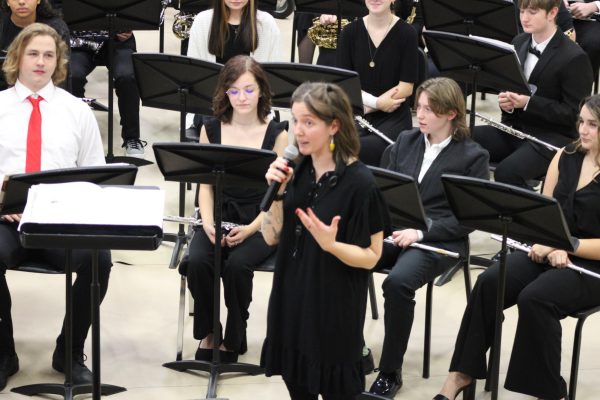 Dunham also stated that Palomo helps students grow in other aspects of their lives such as improving self confidence. "She is always building up her students to be the best versions of themselves she knows they can be," Dunham said.
Aside from her role as Band Director, Palomo also teaches a music tech class during her third hour. In this class students learn how to create music electronically, using their chromebooks, instead of traditional instruments. Students mix beats and write original songs using sound effects and recordings of various things. According to Palomo, the class started as a way for her to teach an elective class that students don't need musical knowledge to join.
Palomo expressed how growing up her band directors were huge influences in her life. They were caring and encouraging while also holding their students to high standards. "I want to pass that along as a band director myself," Palomo added, "I couldn't imagine not doing band every day forever!"