Fair Grove Christmas Play Gets Students in the Spirit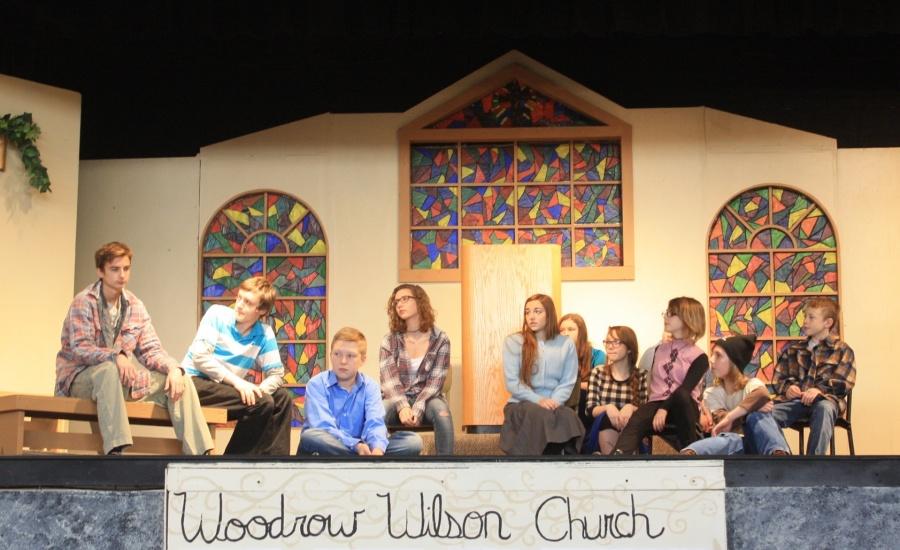 Haileigh Houston, Asst. Social Media
December 21, 2014
On December 13th and 14th the Fair Grove theater department performed "The Best Christmas Pageant Ever," written by Barbara Robinson, led by Ms. Deckard. This was Ms. Deckard's first play here at Fair Grove. To begin the play the high school choir sang classic christmas songs to get everyone in the "Christmas spirit," featuring solos by Chauncey Miller and Jackson Davis. Admission was five dollars at the door.
The theme of the play was to not judge others harshly. The Herdmans were the notable outcasts of the play who didn't know the story of Christmas. One day the Herdmans were introduced to the local church by Luck Cockroft's character Charlie Bradley and the conflicts arose from there on. The cast consisted of Dylan Appleton as the father, and Micki Hudgings as the mother who was in charge of directing the young kids after Mrs. Armstrong was injured. Courtney Deeds, the narrator of the story, played Beth Bradley.
The church's play wowed the audience, and the audience's reaction was a result of good acting; The Fair Grove students practice and effort paid off, and the play wowed the audience. The actors practiced for, an average, about 2 months. "The practices ran very smooth, Ms. Deckard was very efficient in her planning and it made the play go well," stated Maegan Holland (10).
The entire set was created by the 7th hour stagecraft class. The play was intended to get the audience into the Christmas spirit and it efficiently met its intent.
(Editor's note: See our pre-play article, here: Theater To Put On Christmas Themed Play)