Three Speech Students Place in the Reed Springs Tournament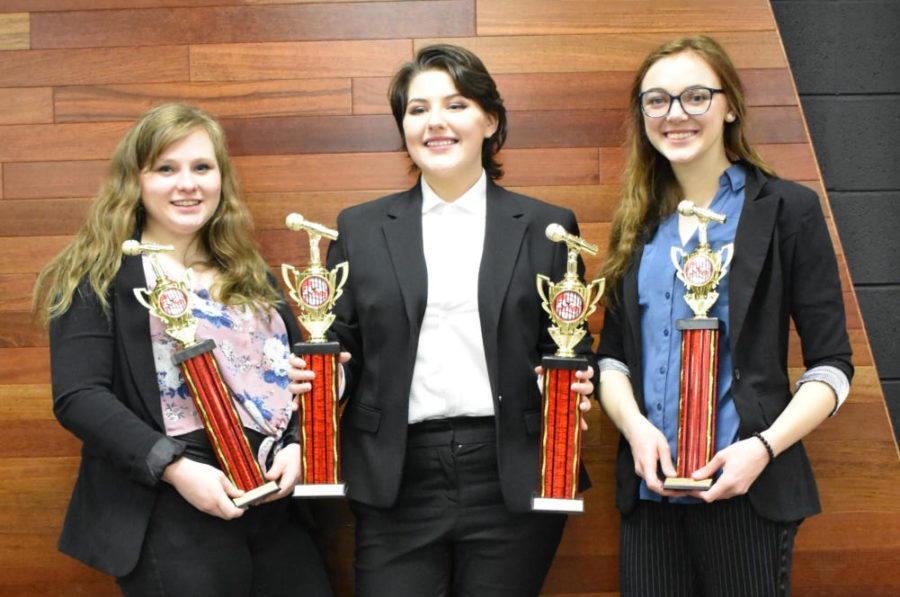 Dory Baker
February 4, 2019
On the 26th of January the Fair Grove Speech team went to the Reed Springs speech tournament and placed 4th overall out of 17 schools. Three students placed individually, Georgia Whalley (11), Emma Hackett (12), and Makayla Hodges (12).
Georgia placed with all of the pieces she performed. She was second in Dramatic Interpretation and Prose, she also got third in Poetry. Her Dramatic Interpretation piece was "The Day the Voices Stopped" by Ken Steele. She stated, "My favorite thing about acting in this piece is getting into character," the piece is about a boy realizing he has Schizophrenia. "So it was crucial that I play the character well," she explained.
Her prose was "13 Reasons Why Not" written by Doug Bender, and "To This Day" by Shane Koyzcan was her poetry piece.
Makayla made it to finals with her Humorous Interpretation piece "Camp Sunshine" by Ken Bradbury. She got "Camp Sunshine" only two days before the tournament. She said, "It was 8 pages long and I had to have it memorized by 6:00 am on Saturday morning."
Despite learning it on such short notice it was still her favorite piece, she loved playing several different characters. Her poetry was also a very meaningful performance for her. She performed a poetry collection of "The Girl Becomes Gasoline" written by Ragan Myers and, "Pocket Sized Feminism" by Blythe Baird.
Emma received first in program of Oral Interpretation. The piece was an oratory about addiction, it included parts of "Ellen Foster" a novel written by Kaye Gibbons, and a poem by Pages Matam. "It's a mixture of pieces that inflate different vocals," she described.
Her favorite performance that day was her poetry. It was  a collection of poems by Sabrina Benaim focused around mental illness. Emma titled the collection "First Hand, Second Hand, Relapse." For both performances she prepared by becoming familiar what needed to be portrayed for the message behind the two serious topics.
This was the first tournament the Fair Grove speech team attended this year. They also will be attending another tournament on February 9th at Bronaugh. The speech team will continue to practice and prepare for more tournaments to come this year.