Girls Basketball Seniors Enjoy a Night to Remember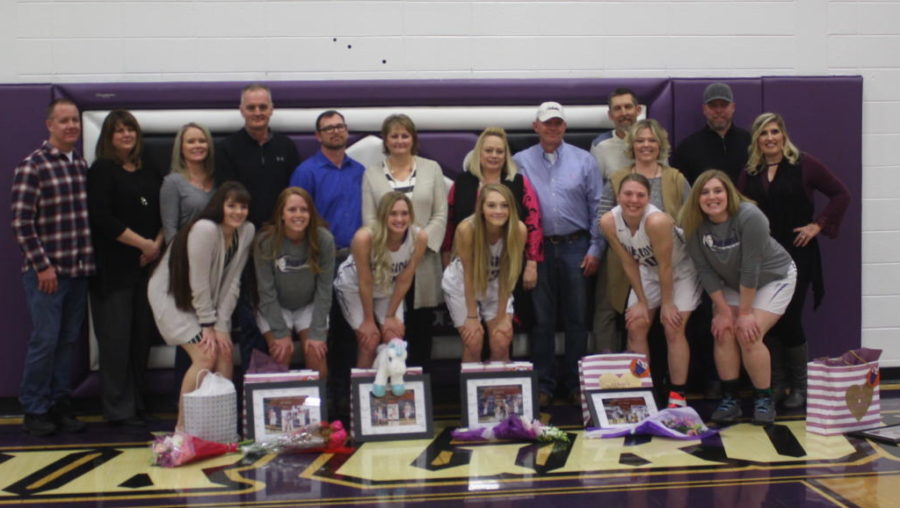 Michael Steineke
February 20, 2019
The Fair Grove Girls Basketball team hosted this year's Senior Night against Stockton on February 11th. Fair Grove has six senior girls that are part of the team. On this night the girls were able to take a big win, winning 65-25 and gaining another conference win. In the first half, the girls only allowed 7 points to be scored against them which all came from free throws.
Fair Grove recognized Alana Findley, Harley Maxwell, Lexie Sutherland, Kaylan Wheat, and Cydney Fullerton as this years seniors, team manager, Brystol Bates, was also recognized. Head Coach Jennifer Talbert said that before the game she showed the girls embarrassing photos of them from their freshman year to bring back some good memories. Before the game Alana Findley was also awarded a ball for scoring 2000 points. Coach Talbert said, "It's a sad night for sure but also a fun night because they are all going to move on and be such great people outside of high school."
Senior Lexie Sutherland said, "Senior night went great, I appreciated everyone that came out and supported us!"
One of her favorite things about playing basketball was the fun memories made each season. One thing Lexie learned during her time playing is that what you put into it is what you are going to get out of it, and not just for basketball, but for everything.
Coach Talbert also stated, "Senior nights give me a chance to stand back and just be proud of how much each player has grown."
This season so far the girls have accomplished 23 wins and 3 loses. They have moved onto the second round of Districts on Thursday, Feb. 21, at 5:30 they will play Clever at Clever High School.