The Monroe House Helping Small Businesses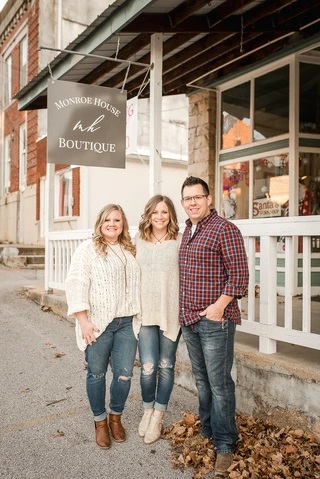 The Monroe House is looking to help local small businesses throughout this tough time. Small businesses, that are nominated through the buyer, can receive the proceeds from a t-shirt fundraiser.
The Monroe House is owned and operated by Meg Biggs, Anna Sutherland, and Taler Sutherland. They have had an online store for four years, had clothes in local locations for two, before settling down on Main Street in Fair Grove last November. The store primary focuses on clothes, although they have a wide variety of shoes, jewelry, and gifts available. Recently the Monroe House Market opened, a home decor and furniture store, which is ran by Taler. This is a monthly market, open on the second Saturday every month.
The Monroe House decided to do a fundraiser for small businesses knowing that many our struggling due to the Coronavirus. Many small businesses have closed their doors, or do not have costumers purchasing items at this time. That's when the owners knew something had to be done to help out these businesses. The Monroe House decided to sell t-shirts, relaying a positive message, for a fundraiser. "Whenever someone purchases a t-shirt, the proceeds from the sales are going to be distributed between the top nominated small businesses," explained Anna. "The hope is that the more t-shirts we sell, the more businesses we can help. So possibly expanding the money to three or four of the top businesses." Buyers are able to nominate a small business of their choosing to be eligible to receive the proceeds.  The t-shirts that are made for this fundraiser are produced by another local small business. "The fundraiser is not a benefit for us, we just want to make sure we are supporting the people around us." Anna added. The t-shirt saying, 'Every little thing is gonna be alright,' was the perfect message to send to people during this stressful time.
T-shirts for the fundraiser can be purchased on their website, www.monroehouseboutique.com/collections/tops/products/fundraiser-tee-shirt.